The Best Christmas Gifts For Parents Who Have It All
Inside: Shopping for Christmas gifts for parents who have it all doesn't have to cause you hours of stress. With a little planning and a little help from me, you can find the perfect Christmas gift for your parents this holiday.
Every Christmas, I struggle with finding that utterly delightful gift for our parents. Finding Christmas gifts for parents can sometimes seem like an arduous effort. It can be hard to find a special present for parents when they already have everything.
And if you're anything like me, because you're so stumped, you wait until the last minute to try to find Christmas gifts for parents. You end up feeling stressed and pressured. You get to the point where you buy anything so that there's a gift under the tree.
But the last thing you want is to buy Christmas gifts for parents that they don't want or don't need.
Do they love to travel? Do they like to garden or try different authentic coffee? From coffee lovers to gardeners, here are a few ideas for Christmas gifts for parents sure to inspire you to find the perfect gift this Christmas.
This post may contain affiliate links. We may earn money or products from the companies mentioned in this post. You can see my full disclosure policy here. 
Christmas Gifts For Parents They Will Love
COSORI Coffee Mug Set – It might be a coffee mug set but it is not just for coffee! This coffee mug set can be used for both cold and hot drinks like tea, milkshakes, and more. With its flat bottom, it will also work well with a coffee warmer. The mug has a slip-resistant silicone sleeve to help keep the mug from burning or slipping when being held. Perfect for parents who love coffee, traveling, camping, or hiking.
COSORI Coffee Mug with Lids Set of 2, Stainless Steel Cups with Heat-resistant Handle & Slip-resistant Sleeve, 17 oz, Best Match w/Mug Warmer, for Coffee,Tea,Water,Cocoa, Milk, C1601-CM, Black & Blue
Gather Here Table Table Runner – A great gift for those parents who love to entertain! They will be able to show off their personalized table runner with every dinner.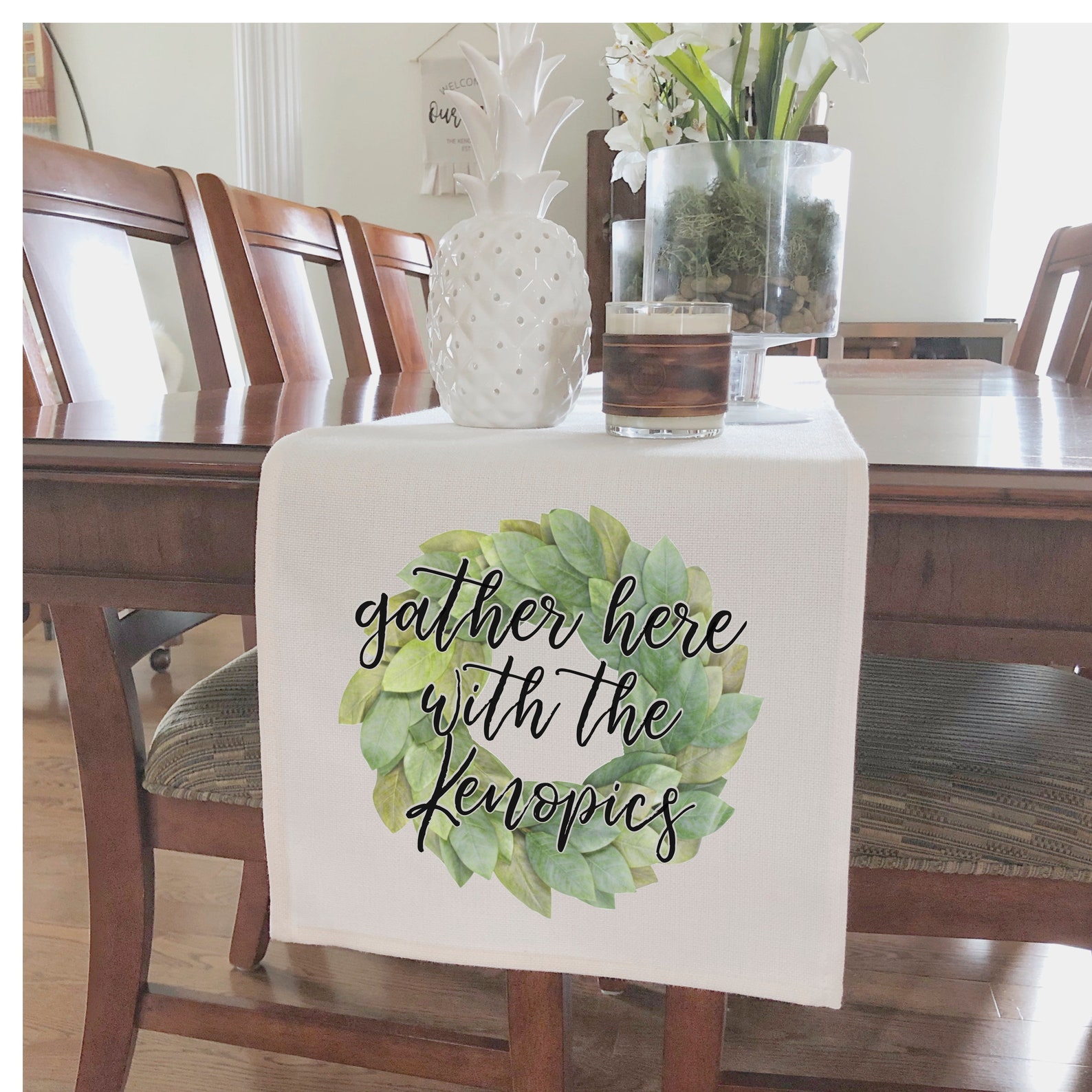 Garden Kneeler and Seat – For those parents who love to garden. This garden kneeler can help keep them comfortable while they plant and sow. The kneeler folds easily so it can be put away. The garden kneeler is made with a steel frame and EVA, so it's sturdy and durable. It also flips over to become a garden chair allowing gardeners to tend to bigger shrubs and long-stemmed plants.
Ohuhu Garden Kneeler and Seat with 2 Bonus Tool Pouches, Foldable Garden Bench Stools, Portable Kneeler for Gardening Gardeners
Essential Oil Diffuser – Give the gift of soothing colors and a relaxing fragrance with an Essential Oil Diffuser. Designed with a waterless auto-off function, this diffuser will turn off 5 seconds after the water runs out for safety purposes. The diffuser also doubles as a humidifier adding moisture to the room by running without any oils.
VicTsing Essential Oil Diffuser, 300ml Oil Diffuser with 7 Color Lights and 4 Timer, Aromatherapy Diffuser with Auto Shut-off Function, Cool Mist Humidifier BPA-Free for Bedroom Home -Wood Grain
Scratch the World Travel Map – A perfect gift for travelers, this map allows you to scratch off the states and countries they've visited. If your parents love to travel, they can keep track of every place they've visited along their travels. Keep those travel memories alive with this scratch-off map.
XL Scratch Off Map of The World with Flags – Made in Europe 36 x 24
Echo Show 8 – The newest Echo Show to the Amazon family. The Echo Show 8 device allows you to connect with video calling, messaging, and watching your favorite tv shows. The Echo Show 8 is compatible with other Alexa voice control compatible devices. Parents can even use it to show off their Amazon photo albums!
Introducing Echo Show 8 – HD 8
Family Picture Tree – Parents can show off how their family tree has blossomed with a unique family picture tree that includes hanging picture frames. Perfect for showing off children, grandchildren, or other family members.
Klikel Family Tree Picture Frame Display with 10 Hanging Picture Photo Frames | Large 20 X 18 Metal Tree | 10 Ornamental 2×3 Frames
Fire HD 10 Tablet – Now included with the Alexa hands-free mode that allows you to pause videos, play music, display the weather, and more. Parents can keep up with their favorite shows and sports, read books, play games, stream content, and more.
Fire HD 10 Tablet with Alexa Hands-Free, 10.1
Sherpa Throw Blanket – A soft reversible luxurious plush blanket that will keep them warm no matter where they are.
Genteele Sherpa Throw Blanket Super Soft Reversible Ultra Luxurious Plush Blanket (50 inches X 60 inches, Gray)
Whiskey Globe Decanter Set – A beautiful decanter that is etched with the world map, this set is perfect for parents who enjoy traveling and having a nice glass of their favorite drink.
Whiskey Globe Decanter (28 Ounce) Etched World Globe Decanter Set for Liquor, Bourbon, Vodka in Premium Gift-Box – Home Bar Accessories for Men – Perfect for All Kinds of Alcohol Drinks
Coffee Mug – Just a classic coffee mug that has the saying "My Favorite Child Gave Me This Mug."
My Favorite Child Gave Me This Funny Coffee Mug – Best Dad & Mom Gifts – Gag Father's Day Present Idea From Daughter, Son, Kids – Novelty Birthday Gift For Parents – Fun Cup For Men, Women, Him, Her
Memory Locket Pendant Necklace – With a DIY design, this locket has a magnetic closure that is easy to open and close. Small photos and other charms can be inserted into the pendant. A perfect way to show your love for mom!
beffy Best Gifts for Daughter from Mom Dad, Living Memory Floating Locket Pendant Necklace with Charms & Birthstones for Mother Mama Mammy Daddy
Herb Growing Kit – This kit has everything that's needed to grow four different herbs at home in biodegradable growing posts.
Planters' Choice Organic Herb Growing Kit + Herb Grinder – Complete Kit to Easily Grow 4 Herbs from Seed (Basil, Cilantro, Chives & Parsley) with Comprehensive Guide – Unique Gift (Herbs)
Bean Box World Coffee Tour – Award-winning coffees that are fun for any coffee lover. The box allows them to travel the world from the taste of the coffee. The Bean Box World Coffee Tour includes tasting notes, brewing tips, and artisan chocolates. The coffee is from top coffee producing regions including Kenya, Indonesia, Costa Rica, Columbia, Brazil, Panama, and more.
Family Memory Jar – A unique keepsake to give! The memory jar comes with 180 blank tickets and a pen so that everyone in the family can write down their favorite memories and place them in the memory jar. Your parents can then go back and read those memories as they reminisce.
Top Shelf TS-MJ002 Family Memory Jar Unique and Thoughtful Gift Ideas for Mom and Dad Memorable Keepsakes Kit Comes with 180 Tickets and Decorative Lid, Large, Blue
Related: Family Christmas Traditions You Can Start for Lasting Memories
If you're looking for more personalized gifts and experiences, here are a few ideas your parents will be sure to treasure:
Have a favorite old photo of theirs enhanced.
Buy them tickets to a local show or event they may enjoy.
Genealogy or DNA kits are always popular for those interested in their family history.
Experience gifts are perfect for adventurous parents. If they have a newfound love for something, try finding an experience gift that incorporates their new hobby.
Christmas Gifts For Parents Who Have it All
Buying useful Christmas gifts for parents can be difficult when mom and dad seem to have everything that they need. But with just a little bit of planning and thinking ahead, you really can find that entirely unique and useful gift.
And if you play your cards right, you just might be deemed the "favorite" gift-giving child this holiday season.
Have any other ideas for Christmas gifts for parents? I would love for you to share gifts you have given your parents in previous years in the comments below.